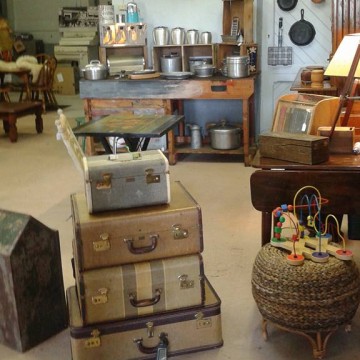 About Us.
Black Dog Antiques is Anaconda's only Antique mall. This upscale retail store hosts unique treasures from more than 30 dealers, offering a creative mix of vintage pieces, antiques, collectibles, home decor and gifts. Wander from room to room and explore the antique oddities that are mixed in with an insane variety of furniture, clothing, jewelry, bottles, mining & railroad memorabilia, traps, tokens & treasurers from Butte & Anaconda's heyday and so much more!

We now offer Interior Design Services through Black Dog Interiors (a Division of Black Dog Antiques)

Renee Amato earned an MBA from California State University Dominguez Hills. She worked as a Chief Marketing Officer at a large California Financial Institution. She is also a graduate of Asheford Antiques Institute and The Interior Design Institute, where she studied architectural history, design styles, space planning, interior finishes, textiles and furnishings.

Her 30-year background in advertising and marketing enabled her to develop excellent client service and project management skills. These skills combined with her education and experience with Antiques and Interior Design, bring a unique skillset to Black Dog Interiors.

Renee owns and has renovated the Historic Washoe Brewery Building in Anaconda Montana. She also owns Black Dog Antiques.

Renee has always had interest in Interior Design and has personally designed numerous homes, cabins, commercial buildings between California & Montana. She loves the mountains and the feel of Montana interior design -the use of natural elements and fibers to blend with nature!
What drives Renee is learning the client's personalities and needs and bringing that out in a home to reflect the family that will be living in it.


Washoe Brewery Building Architectural History

From National Register Plaque: Washoe Brewery (1200 E. Park Avenue) An architecturally impressive landmark and gateway to Anaconda s east side, the Washoe Brewery symbolizes the private enterprise that flourished in this company town. The imposing Italian Renaissance-inspired brewery with its signature corner tower is a bold reminder of an industry important to Anaconda s residents. It also represents an intriguing, unsolved corporate mystery. In 1904, the upstart manger/vice president of the Anaconda Brewing Company (ABC) suddenly resigned his position to establish a rival brewery. Despite William Haltonhoff s resignation, he oddly remained ABC s manager during construction of the $80,000 Washoe Brewery, completed in August of 1905. The ABC purchased the Washoe in December for $81,000 and shut it down. The building was subsequently long unoccupied. After Prohibition in 1933, the Washoe reopened under A. J. Tuchscherer, producing Rocky Mountain Beer until 1955. The brewery s boardinghouse and bottling works are now separate properties, but the gable-front house and wagon barn remained intact for 100 years. The brewery itself, little changed over time, is of primary significance to Goosetown's historic neighborhoods.

Property Description

The Washoe Brewery Building, built in 1905, is on the National Register of Historic Places. The Washoe Brewery (by architect JG Link) is today the only surviving industrial plant in Anaconda that was not associated with the Anaconda Company, and the last of several local breweries. Anchoring the Northeast Corner of Goosetown (Park and Madison), this massive 13,500 square foot, four-story facility borrows heavily from Italian Renaissance and Romanesque design with its dominating corner tower, round-arched windows, and heavy brick cornice. The building itself is brick construction. The total square footage is 13,293. The main floor has 10,000 total square feet of retail space. A private residence is currently located on the 2nd, 3rd and 4th floors.